Actually this is something I painted a while ago now, but I am putting a picture up here now to see if I can put pictures up, and then if I can, I will put up some pictures of the Ottomans that I painted while I was on holiday.
Anyway this is a GW Sisters of Battle Rhino in my new black and flames paint scheme…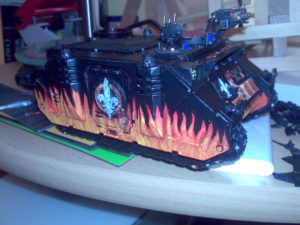 The colour balance is pretty poor as its taken on a phone camera rather than a proper camera.
Here is one taken on a proper camera, admitted under a horrible combination of daylight and incandescent light, so it errs the other way and is over-warm. Suits it though. Need a post-apocalyptic bit of terrain to photograph it on now.