The vast majority of figures for these are from Legio Heroica.  I particularly like their figures, and especially their Roman figures.  They are pretty chunky, which I like, but which I know other people don't – YMMV.  It's also a pretty wide range, and includes Germanic figures as well, who are useful as foederati.  The only figures in the ranges I don't like so far though are the Germanic light infantry – they just aren't dynamic enough.
The idea behind this is that I should be able to use these figures for any Roman army from the Severan reforms up until Yarmuk – so covering Middle Imperial Roman, Late Imperial Roman, Patrician Roman, Early Byzantine or Maurikian Byzantine (although that is getting to be a bit of a stretch).
First the legionaries.  These are the main constant throughout the entire period.  Once they have changed over to mail and flat oval shields, the equipment doesn't really change for 3 centuries I think.
The shield patterns probably did change.  I am using transfers from LBM, which are (like everyone else,  based on the Notitia Dignitatum).
In the background on the right are two bases of Bd(X). These are the standard Bd but holding large clubs made from cut down match-sticks. Not perfect, but not bad for legionary clubmen.
Then four auxiliary cohorts: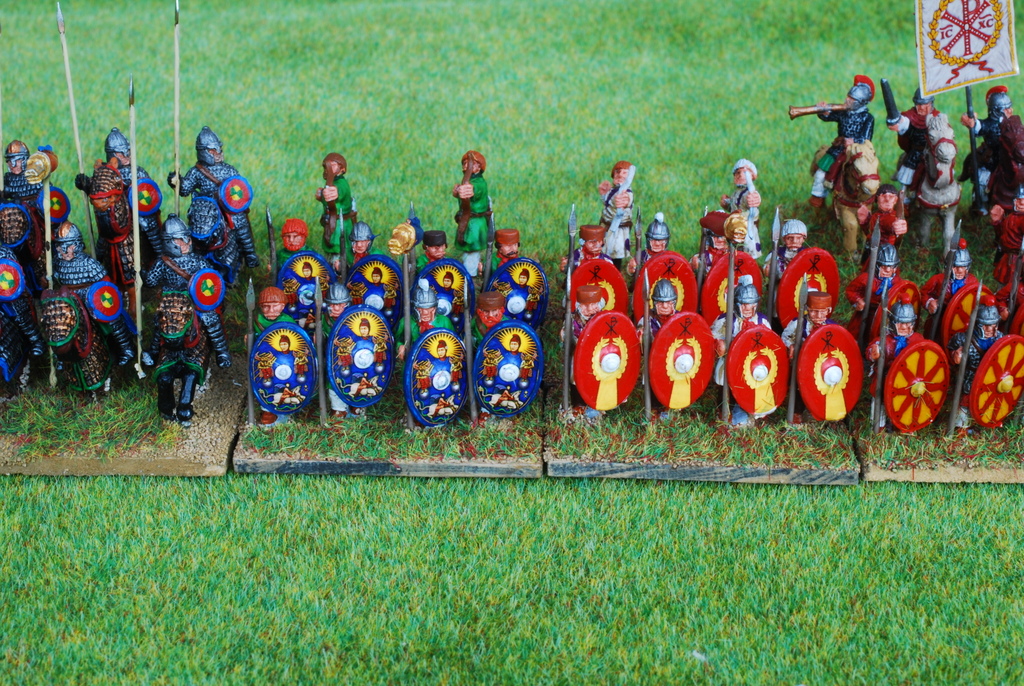 The left hand one has a shield pattern from the Dura excavations I think, while the right hand one appears to be a pattern of a guard unit.
These two have shield patterns from the Notita Dignitarum – on the left the Leones Iuniores (from the page on the Magister Peditum, who commanded the infantry of the Western field army); on the right the Anglevarii (from the page on the Magister Militum Praesentalis I, who commanded the first central field army of the Eastern empire).
Then the Equites
Three vexilla of equites armed with spears, javelins and large shields. On the left a unit with a shield from the Dura excavations, in the centre one of the Schola units from the page of the Magister Officiorum of the West, and on the right the Equites Honoriani.
This one is two vexilla of equites on the left and four bases of Gothic nobles on the right. The vexilla are the Equites Honoriani (on the left) and the Equites Mauri Feroces (on the right).
Equites Clibanarii
The Equites Illyricani
The Equites Sagittarii